In this tutorial you will learn how to create a photo sketch effect. This effect turns your photos into a hand drawn sketch. I have used a free stock image of dog which is available from: www.sxc.hu.

Photo sketch effect

Step 1

Open an image in Photoshop and duplicate the layer by pressing Ctrl + J.





Step 2

Remove the colour from the image by selecting Image > Adjustment > Desaturate. You should get the following black and white image like below: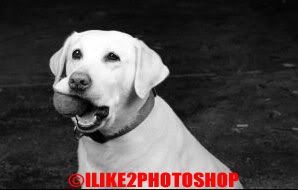 Step 3

Duplicate the layer again by selecting Ctrl + J. Then invert the image by selecting Image > Adjustment > Invert.





Step 4

From the layers panel change the blending option to Colour Dodge. You image may turn completely white.





Step 5

Select Filter > Blur > Gaussian Blur and adjust the radius to your preference. I have selected a 5 pixel radius, but you can experiment with your image. Dragging the slider more to the right will create a more emphasized image.


Step 6

Merge all your layers together by selecting all your layers pressing Ctrl + E.




You should now have a photo sketch effect.