This Photoshop tutorial will teach you how to create a simple text outline effect. You are required to use the stroke blending option for this effect.

Text outline effect

Step 1

Open a new Photoshop document with the size 640 x 480.
Select the text tool with a black colour and type your message on canvas. I have used impact font type, but you can use whatever font you wish.






Step 2

Select Layer > Layer Styles > Blending options. Then drag the "this layer" of the Blend If section, until your text on the canvas disappears.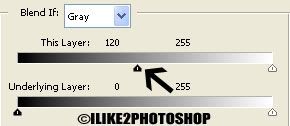 Step 3

Now select the Stroke blending option and add the following settings:

Size: 3px
Position: Outside
Blend Mode: Normal
Opacity: 100%
Fill Type: Colour
Colour: # 1663ef (Choose whatever colour you wish)





You should now have text outline effect.


Related Tutorials
Glow text effect
Ice text effect
Jelly text effect
Gold text effect