This Photoshop tutorial will teach you how to create vampire teeth/fangs. This effect requires using the polygonal lasso tool and the transform tool. For this tutorial I have used a free stock image of teeth which is available at: www.sxc.hu

Vampire teeth/fangs

Step 1

Open an image in Photoshop.
Duplicate the image by selecting Ctrl + J.

Step 2

Select the polygonal lasso tool and create a fang shape on the tooth like below: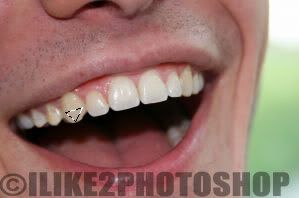 Make sure the points on the polygonal lasso tool are touching the sides of the teeth as this creates a nicer fang shape.

Step 3

Now select the free transform tool Ctrl + T and drag your tooth downwards to your desired size. And then repeat this for the other tooth.




You should now have vampire teeth like below: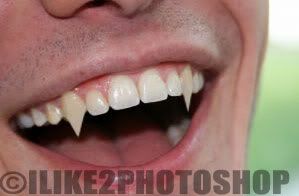 The teeth in the image are a rather dull and yellow, so I have decided to whiten the teeth. This is optional, but you can also leave your vampire teeth as they are.