This Photoshop tutorial will teach you how to add eye shadow in to an image. You need to use the paint brush tool for this effect. I have used a free stock image of a woman which is available from: www.sxc.hu

Add eye shadow

Step 1

Open an image in Photoshop.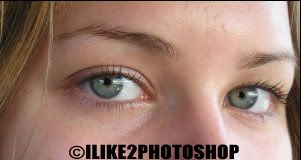 Step 2

Insert a new layer by selecting Ctrl + Shift + N.
Select the brush tool with an appropriate brush size and choose the colour you wish to use for the eye shadow. I have used #c64efd colour but you can use whatever colour you wish.
Change the brush opacity to 40%.





Step 3

Paint over the areas where you want eye shadows like below. If your eye shadow colour is too light, you can paint another layer on top of your current layer.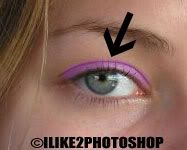 Step 4 - optional

Select the smudge tool and blend in the eye shadow colour by clicking and dragging the mouse.




You should now be able to add eye shadow colour.


Related Tutorials
Change eye colour
Black eye effect