In all versions of Photoshop there are various secret Easter eggs. It seems to be a tradition to include these Easter eggs. All the versions have a pop up window with a little wizard called 'Merlin'.

To find this Easter egg you firstly need to open up Photoshop. Then hold down the Alt (Windows) or Options (Mac) key depending on what kind of computer you have. Now click on the little arrow button on the layers panel as shown below.




On the drop down menu select 'Palette Option' which is the last item on the menu.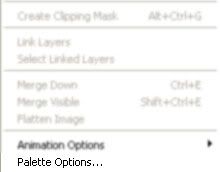 A pop up window should appear with a little wizard. You press the 'Begone' button for the window to close down.




If you know any more Easter eggs, feel free to leave a comment below.